Year 2 Spelling
Summer Half Term
In line with our Homework Policy, there are no homework tasks or spellings to learn next week because it's the Summer half-term holiday. Of course, there are plenty of ways to help your child continue learning: get reading, go places, talk lots!
Have a happy and healthy holiday.
Posted by Mrs Weekes on 27 May 2016
20 May 2016
There are no spellings for Year 1 and Year 2 this week due to next week's themed week.
Posted by Mr Wilks on 21 May 2016
13 May 2016
Posted by Mr Wilks on 13 May 2016
06 May 2016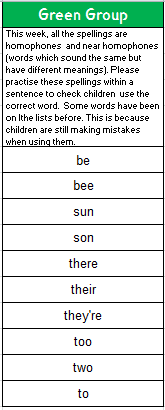 Posted by Mr Wilks on 6 May 2016
29 April 2016
Posted by Mr Wilks on 29 April 2016
22 April 2016
Posted by Mr Wilks on 22 April 2016
24 March 2016
Here are the spellings for this week:
Posted by Mr Wilks on 24 March 2016
18 March 2016
These are the spellings for next week:
Posted by Mr Wilks on 18 March 2016
11 March 2016
Here are the spellings for this week:
Posted by Mr Wilks on 11 March 2016
04 March 2016
Here are the spellings for this week:
Posted by Mr Wilks on 4 March 2016